Published on 06 February 2014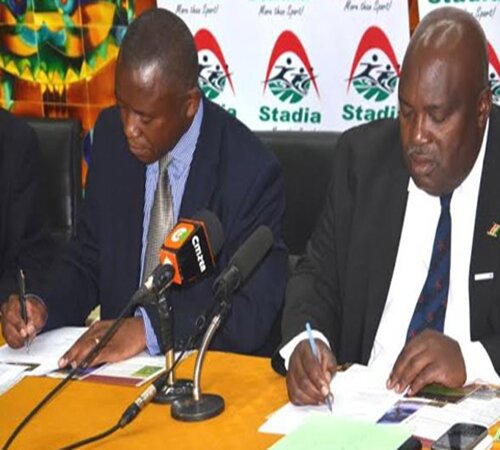 The Sports Stadia Management Board (SSMB) and Kenya Golf Union (KGU) signed a trust deal that will see an ultra modern public golf course worth Sh200 million developed at the Moi International Sports Centre, Kasarani.
The deal was signed on the 18th of December 2013, at the Safaricom Stadium Kasarani by SSMB Chief Executive Officer Gabriel Komora and the KGU Chairman Francis Okwara. The facility will have a champion calibre 18-hole golf course, a club house, a golf academy with suitable driving range, a national golf headquarters facility and any other necessary additional facilities.
The development of the project will kick off early this year with a tree planting exercise in readiness for the main course. About 10,000 seedlings will be planted. Komora said: "We are glad to join hands with the Kenya Golf Union to develop this facility for the benefit of Kenyans. The signing of this trust deal marks the beginning of the development of a public golf course, which has been part of our plans since the complex was conceptualised. It will help us demystify golf as an exclusively rich man's game. We want to identify and nurture golf talent from all Kenyan youths."
According to Komora, development of sports facilities require concerted effort from all well-wishing organisations and the sports federations. "One of our core mandates as an organisation is to develop sports facilities across the country. Construction of new facilities and the rehabilitation of existing ones is a capital intensive exercise which we cannot manage on our own and we have therefore opted to collaborate with the sports officials and other organisations," Komora said.
Okwara said that the 200 acre piece of land set aside at Kasarani had remained idle and time had come for it to be developed. The land is adequate to develop a golf facility of international standard. The public golf course is part of an elaborate master plan that will utilise over 1000 acres.

Source: www.standardmedia.co.ke